There are some seasons we go through where it feels like the attacks on our lives just won't stop and you ask where God is or why He is not rebuking the devourer as He promised in Malachi 3:11  And I will rebuke the devourer for your sakes, so that he will not destroy the fruit of your ground, nor shall the vine fail to bear fruit for you in the field,"
says the Lord of hosts.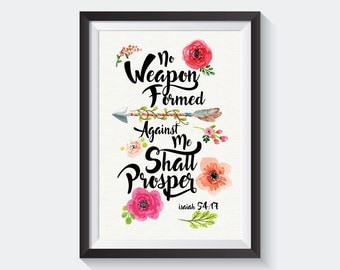 It is in those seasons when we feel like giving up that we trust, believe like never before why because God promised that the weapons will not prosper.
Isaiah 54:17

No weapon formed against you shall prosper, And every tongue which rises against you in judgment You shall condemn. This is the heritage of the servants of the Lord, And their righteousness is from Me," Says the Lord.
The weapons are going to be formed there is absolutely no doubt about that BUT God promised that there will NOT prosper.
Whatever weapons are being formed against you right baby rejoice because you know Jesus already won the victory and He is seated on high in majesty for He is the risen King. If Jesus could conquer death what more can He do to stop the weapons being formed against your life from prospering?
So chin up, walk with your head held high, even if you cry whilst you are feeling the weight of those weapons do not give up; for that's what the enemy wants you to do. Instead laugh in his face, laugh at how useless and powerless his weapons are. Consider it all joy, my brethren, when you encounter various trials, knowing that the testing of your faith produces endurance. And let endurance have its perfect result, so that you may be perfect and complete, lacking in nothing James 1:2-4.